酒店网址:http://www.xiqianghomelandhotel.com/
西羌家园酒店位于四川成都至九寨沟旅游环线黄金中段茂县城中心,距成都190公里,距九寨沟245公里,海拔1580米,地理位置十分优越。酒店隶属大陆希望集团,是以四星级标准按"特色化、个性化、民族化"设计建造,充分体现羌族民族文化的城市派酒店,由家园国际酒店管理公司入驻管理,以古羌建筑遗产"锁阳楼"、"羌阳亭"为风格,是国际旅游线上认定的茂县中途涉外旅游定点饭店,也是茂县最早的星级酒店之一,在旅游市场上享有很高的知名度。酒店是赏古城夜景,逛羌山夜市的中心,也是体验羌式特色化、高质量服务的中心。
West Qiang Homeland Hotel is located in Maoxian County Centre, in golden middle section of the Chengdu-Jiuzhaigou Valley tourism loop. It is 190km from Chengdu and 245km from Jiuzhaigou. At an altitude of 1580m, it is in a superior geographic location. Owned by Continental Hope Group and managed by Homeland International Hotel Management Co., Ltd., the hotel is designed and constructed in accordance with 4-star standards and fully reflects the authentic culture of Qiang ethnic group. West Qiang Homeland Hotel displays ancient Qiang architectural heritage, drawing inspiration from the Suo Yang Tower and Qiang Yang Pavilion. It is one of the earliest stared hotels built in Maoxian County and has becomes the county's certified hotel for international tourism, with an excellent reputation in the tourism market. The hotel is perfectly situated to enjoy the night scene of the ancient town and Qiang Mountain Night Market, as well as experiencing high-quality Qiang-style service.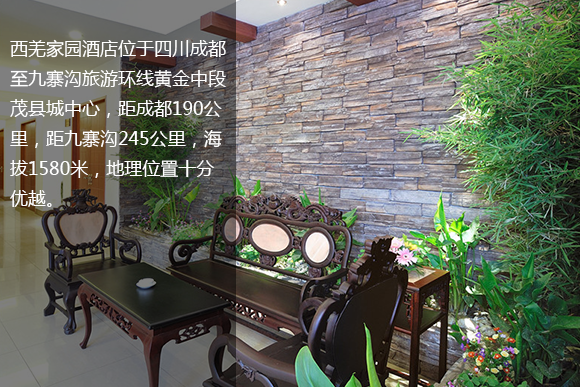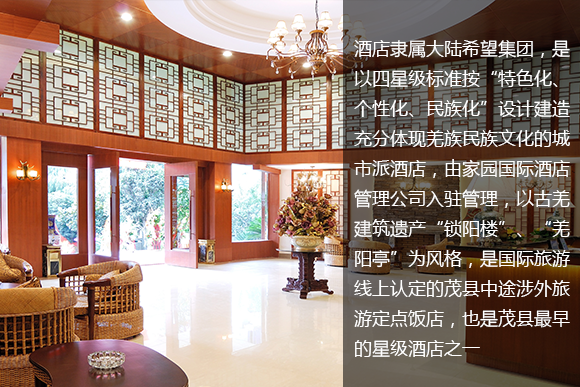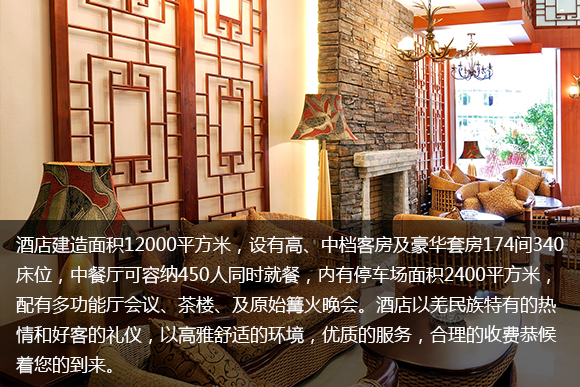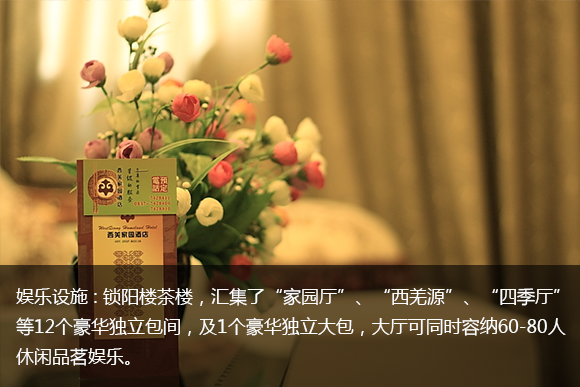 酒店建造面积12000平方米,设有高、中档客房及豪华套房174间340床位,中餐厅可容纳450人同时就餐,内有停车场面积2400平方米,配有多功能厅会议、茶楼、及原始篝火晚会。酒店以羌民族特有的热情和好客的礼仪,以高雅舒适的环境,优质的服务,合理的收费恭候着您的到来。
The hotel covers an area of 12,000 sqm, with 340 beds in 174 mid- to high-range guest rooms and deluxe suites, a Chinese restaurant that can accommodate 450 guests, a 2400 sqm parking lot, a multifunctional conference room, teahouse, and natural bonfire parties. The hotel awaits your arrival with warm enthusiasm, quality hospitality and elegant surroundings.
客房设施
酒店主体楼(西楼《五星楼》)高四层,外观气势恢弘,依山傍水,环境幽雅,现拥有68间豪华空调标间、9间豪华高档大床房及2套贵宾套房,满足不同需求的客户使用,随时为宾客营造一个现代化的生活享受空间。房间设计精美、设施齐备、宽敞舒适、安全方便,房中设有一张大型书桌,和110/220伏特的电源插座,24小时太阳能供应热水,另备有独立空调系统;南楼空标(四星),现有房间58间,其中2个豪华高档家庭房,其余配套设施与主楼一致;豪华高档商务楼(东楼《五星楼》),现有24间高档豪华大型商务空调标间,7间豪华单间,房间内配有国内直拨电话、卫星频道及床头阅读灯等设备,并采用电脑卡片锁加强安全设施等,让您尽享隐密休闲的私人空间。专业的酒店管理公司的入驻让您在享用先进的客房设施的同时尽享星级水准之特色服务,让您沉浸在好山好水之余,尽情享受度假的闲适气氛。
Room Facilities
The hotel's main building (the West Building, a five-star building) is a tall four-story structure situated close to both mountain and water, with a grand and imposing exterior and an elegant ambience. It contains 68 luxurious air-conditioned standard rooms, 9 luxurious high-end king-sized rooms, and 2 sets of VIP suites to meet the different needs of customers, at all times creating a modern living space for guests to enjoy. The rooms are beautifully designed, simultaneously spacious, comfortable, safe and convenient. Each room is equipped with a large desk, 110/220V power sockets, 24-hour solar-powered water supply and independent air-conditioning systems. The South Building (four-stars) contains 58 rooms, including two luxury high-end family rooms. All the facilities in the South Building are consistent with those in the main building. There is also a luxury high-end commercial building (the East Building, another five-star building) with 24 luxurious top-grade large-scale air-conditioned standard commercial rooms and 7 deluxe single rooms. Rooms are equipped with a domestic direct dial telephone, satellite channels, bedside reading lights and other equipment. Computer key cards ensure the security of the room, allowing guests to enjoy full privacy. The establishment of a professional hotel management company allows you to enjoy the benefits of our state-of-the-art room facilities and our special five-star service whilst immersing yourself in "good mountain good water", enjoying the leisurely atmosphere of a holiday.
餐饮、会议设施
"西羌家园食府"中餐厅可接待450人就餐,汇集"长海"、"芦苇海"、"白石海"、"白腊海"等豪华贵宾包房,包括可容纳二十多人的独立式厅房,提供优雅、舒适的私密空间满足您的个人需求;多功能厅不仅可以容纳190人同时用餐,还可以容纳近200人的会议,高档豪华的装修、先进的配套设备设施,是您会议、宴会的最佳选择。餐厅高薪聘请名厨主理,以经营羌族特色菜为主,同时推出川粤经典菜肴,可接团队餐、零点,亦可根据您的需求量身定做套餐,满足客人不同层次的用餐需求,并提供丰富多样的自助早餐迎合来自境内外的观光游客。
Restaurant and conference facilities
The "West Qiang Homeland Restaurant" Chinese restaurant can accommodate 450 people dining. Our collection of luxury VIP rooms - including the "Long Sea", "Reed Sea", "Whitehead Sea", and the "Baila Sea" – can each accommodate over 20 people, and offer an elegant and comfortable private space to meet your personal needs. The multi-function hall can accommodate 190 diners or a 200-person conference. With high-end luxurious interiors and advanced ancillary equipment, the hall is the best choice for your meetings and banquets. The restaurant hires chefs who specialize in Qiang cuisine, but also cook delicious Sichuan and Cantonese classic dishes. Catering can be organized and packages can be tailored according to your needs. The buffet breakfast offers a variety of food to cater for both domestic and international tourists.
"羌山荟"向宾客提供"羌家全菜"、山菜、野菜、山菌类、山禽类,岷江鱼等当地羌族系列特色菜及传统、新派川粤菜,风味各异,造型精美,能满足宾客追求新、奇、健康菜肴的需求。高级名厨为您烹调的美食,定能令您回味无穷。
无论是日常会友、接待团队或大型婚寿宴、生日宴等,我们都能为您提供最佳场所及专业、热情的星级服务,令您有宾至如归的感觉。
The "Qiang Misty Mountain" offers a variety of Qiang home-style dishes like mountain vegetables, wild vegetables, mountain fungus, mountain fowls, Minjiang River fish, and other local family specialties. They also offer traditional and modern Sichuan and Cantonese cuisine. Our chefs will prepare culinary delights for you to savor, exposing you to different flavors and exquisite shapes, to satisfy guests' pursuit of new, exciting, and healthy cuisine.
Whether you are just catching up with friends, celebrating your birthday, hosting a business conference or a large wedding banquet, we can provide you the best site with warm professional service to make you feel at home.
娱乐设施
锁阳楼茶楼,汇集了"家园厅"、"西羌源"、"四季厅"等12个豪华独立包间,及1个豪华独立大包,大厅可同时容纳60-80人休闲品茗娱乐。
Recreational facilities
The "Suoyang Building" brings together the "Homeland Hall", "West Qiang Source", "Four Seasons Hall", just some of our 12 luxurious private rooms, as well as a lavish hall that fits 60-80 for leisurely tea-drinking and recreation.